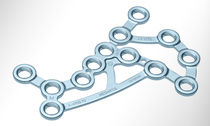 Overview
Heel spur is a hook of bone that protrudes from the bottom of the foot where plantar fascia connects to the heel bone. Pain associated with heel spurs is usually pain from plantar fasciitis, not the actual bone. Heel spurs are most often diagnosed when a patient has visited a pain specialist or podiatrist for on-going foot pain related to plantar fasciitis; spurs are diagnosed via
X-ray
of the foot. Heel spurs are most commonly diagnosed in middle-aged men and women. As noted, most patients with this condition have other podiatry-related pain. This condition is a result of plantar fasciitis (when the fascia, a thick connective tissue that connects the heel bone and ball of the foot) becomes inflamed. Some 70% of plantar fasciitis patients have a bone spur. Bone spurs are soft calcium deposits caused from tension in the plantar fascia. When found on an
X-ray
, they are used as evidence that a patient is suffering from plantar fasciitis. Plantar fasciitis is typically caused from repetitive stress disorder. Walking, running, and dancing can cause this with time.
Causes
Though this syndrome is most common in individuals 40 years or older, it can occur at any age. The following factors increase the likelihood of heel spur development. An uneven gait which applies too much pressure to certain areas of the foot. Being overweight. Wearing worn shoes or ill-fitting footwear. Job conditions that require long periods spent standing or lifting heavy objects. The normal aging process which results in a decrease in ligament elasticity.
Symptoms
Heel spur is characterised by a
sharp
pain under the heel when getting out of bed in the morning or getting up after sitting for a period of time. Walking around for a while often helps reduce the pain, turning it into a dull ache. However, sports, running or walking long distance makes the condition worse. In some cases swelling around the heel maybe present.
Diagnosis
Your doctor, when diagnosing and treating this condition will need an
x-ray
and sometimes a gait analysis to ascertain the exact cause of this condition. If you have pain in the bottom of your foot and you do not have diabetes or a vascular problem, some of the over-the-counter anti-inflammatory products such as Advil or Ibuprofin are helpful in eradicating the pain. Pain creams, such as Neuro-eze, BioFreeze & Boswella Cream can help to relieve pain and help increase circulation.
Non Surgical Treatment
Rest your foot. Reduce the amount of weight-bearing activities you participate in. Get off of your feet and elevate them. This will allow healing to begin. Apply ice to your foot. Applications of ice packs that provide a comfortable cooling to the heel and arch (not a freezing cold) will help reduce pain, swelling, and inflammation. Apply the ice to the heel and arch (not the toes). Make sure it is comfortable, and leave on your foot for about 20 minutes, 3 times a day. If you have any medical problems such as diabetes, poor circulation, etc., discuss the use of ice with your doctor before applying the ice. Active Wrap allows you to apply comfortable cold therapy to your foot without messy ice cubes. Use while on the ?go.? Do not walk with bare feet. Always protect your heels, arches, and plantar fascia with good supportive shoes. Vionic Orthotic Flip Flops For Men and Women are designed for walking comfort with built in orthotic foot beds that help reduce foot pain from heel spurs. Use in the house or on the beach.
Surgical Treatment
More than 90 percent of people get better with nonsurgical treatments. If conservative treatment fails to treat symptoms of heel spurs after a period of 9 to 12 months, surgery may be necessary to relieve pain and restore mobility. Surgical techniques include release of the plantar fascia, removal of a spur. Pre-surgical tests or exams are required to identify optimal candidates, and it's important to observe post-surgical recommendations concerning rest, ice, compression, elevation of the foot, and when to place weight on the operated foot. In some cases, it may be necessary for patients to use bandages, splints, casts, surgical shoes, crutches, or canes after surgery. Possible complications of heel surgery include nerve pain, recurrent heel pain, permanent numbness of the area, infection, and scarring. In addition, with plantar fascia release, there is risk of instability, foot cramps, stress fracture, and tendinitis.
Prevention
Prevention of heel spur syndrome may be best by finding a good supportive shoe. Never go barefoot or wear a
flat
soled shoe. There are many over the counter arch supports that give increased support for your feet. Usually when there is excessive pronation the Achilles Tendon contracts or becomes shortened over time since it is not being used fully. The shortened Achilles Tendon is called an equinus deformity. By keeping this tendon stretched it may decrease some of the tension in the foot. Some theories believe the Achilles Tendon and plantar fascia is continuous. Before you get up from rest, stretch out your Achilles and the plantar fascia. You may attempt to spell the alphabet with your foot and ankle, use a towel against pressure on your foot, or roll a can of soup or sodapop on the ground. Ice may work well at
the times
of severe pain. For a chronic pain, or longer lasting pain heat therapy may improve the condition.